Taste Sensation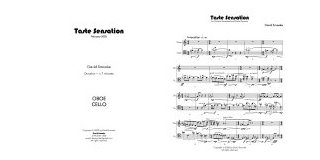 [Click image to view sample PDF score]
(oboe and cello), 8 min., 2003. A CUBE commission.
Premiered by CUBE: Patricia Morehead, oboe, Paula Kosower, cello, Chicago, IL.
Recording by the Definiens Ensemble available soon.
Within a 5 minute framework Taste Sensation explores some of the various relationships possible between two instruments, alternating solo passages with imitative lines and sections where one player accompanies the other. A cello melody serves as an invocation, followed by the oboe. Segments of the opening gesture spin off to create a repeating figure that accompanies a long melody. A period of relative calm is interrupted by a solo oboe passage that returns the opening material and leads back into the faster melody, building to a surprising conclusion.